(7/1/2014 - 7/31/2014)
(Day 123- Day 153)
The last few days of Month 4, and so far Month 5, have not been good to me. But before I get into the woe, I want to start by saying I have experienced GREAT progress. I feel like I'm healing and getting more energy and having moments of feeling like my old self. I am also having moments where I am not in horrible pain, but with that being said, I am ALWAYS feeling some type of discomfort on my skin. ALWAYS.
I am now in what I would consider Phase III of my journey. (Phase I was the first month of HORRIBLY HOT, red, and painful rash. Like a sunburn rubbed with fiberglass. Lots of night terrors and sweats with full body aches from the withdrawal. My skin was so hot it would radiate heat. Phase II was where my face fell the h*** off with DISTURBING, smelly ooze and throbbing open wounds. Lots of swelling in Phase II, lots of dryness with no mobility, lots of skin cracking and tearing, lots of sleepless nights, and lots of what I call steaming. I literally didn't even sweat, I just evaporated and it smelled like a rat cage... or raw meat.) Phase III is what I call "the roller coaster of rashy, itchy, stingy, burny, welty redness.
Phase III has brought upon what I call heat flares. If I am exposed to external heat or get my internal temp up from moving around, it will trigger a tidal wave of overwhelming itch. It comes on gradually and then BAM, I am so overcome by itching that I nearly convulse because I don't know what to scratch first and I typically just end up rocking back and forth because it's so overpowering. The itch is maddening and all consuming. It's like nothing I've ever experienced before. It is IMPOSSIBLE not to scratch. Or rub. Or SOMETHING. Impossible. It's like getting bitten by bugs all over your body... ALL over and alarms are surging up to your brain!? I would liken it to standing in an ant pile. You slowly start to feel a few stings and them suddenly you're overtaken by unbearable bites all over. Scratching doesn't help because it is so all consuming and urgent. Like stopping a waterfall with a shot glass. When the wave passes, I'm left exhausted. Like I just ran sprints. My body hurts and is sore and i just want to sleep. I'm also flakey and gross. It usually lasts about 30 minutes.
Because of these stupid scratchfests (or scratching in my sleep) I have little cuts all over. When I sweat, it STINGS. It stings like tiny paper cuts all over my body. It stings when I sweat and it stings when I get plain water in it. IT IS ANNOYING.
What only people with eczema or TSW can understand, is the burden that is bathing. For nearly as long as I can remember, showering has been a chore. All water effects me differently. Showers typically leave me dry and irritated and red. It's a hassle. But TSW has taken this train to the next stop. If water so much as TOUCHES any effected skin, it BURNS. I can get water on my arm...or my stomach... or my face... or my neck and within about 1 minute it burns like the top layer of my skin is off. What's strange about this, is that it also burns the same with vaseline. It feels as if the skin is SOOO beyond dry that it burns the skin with the moisture. I always feel better a while after the moisture, but the initial gets me crawling out of my own skin with pain. I walk around repeating a phrase over and over and over and over. I pick a word and just cling to it. Typically a derivative of a curse word (fudge..fudgey...shoot...crud) to take my mind off the intense burning. Sometimes the burning is so bad that it feels like acid being poured on my skin. This is no exaggeration. 15 minutes of icepack and it usually goes away.
WELTS:
I typically get welts if I eat something i'm allergic to. I drank stinkin' unfiltered water
and got welts SO bad.
Every day at 2 o'clock I got welts on my face and body until I cut out the protein shake I was drinking and voila, gone.
I mentioned before that I am having great progress, but it's hard to see that in the day to day. I will look in the mirror and think, ok, not horrible from a distance. Then i'll go and do stuff and catch glimpse in the mirror and it's awful. SO flakey and red. And of course uncomfortable (see above). With all this day in and day out with literally NO breaks of discomfort, it is SO taxing on your emotions. To feel like you're getting better and then to flare out of nowhere. The flares are so exhausting mentally and physically, that you lose sight of your progress. You become so wrapped up in the moment of pure chaos that you feel like you've lost so much ground. All of this after 124 days has become so tiring.
Anyway, that's what's new around here....
Here are pics.
Day 123
I got in the car and looked like this. Guh.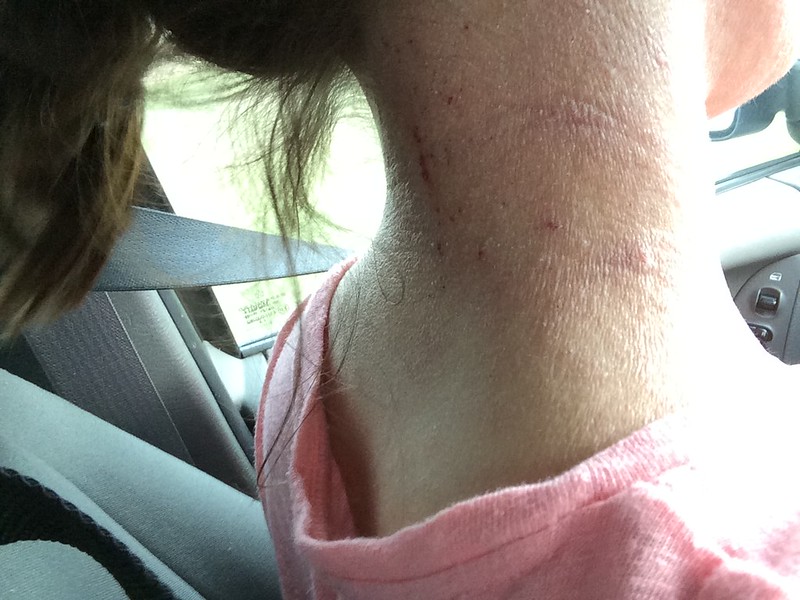 D
ay 124
So sick of looking like this.
This was SO painful. I cried. Hub came home early.
Maddening itch.
Day 125
Took some pics of my family today. SWEAT like mad and worked through the itch fest... then looked like this.
This lovely little number showed up... an oozy spot. Lovely.
These three days were pretty stagnant... I suppose there were small improvements. I'm at the stage where I'm trying to find a moisturizer that doesn't irritate me. I always feel better and notice improvement after moisture, but sometimes it irritates when I put it on.
Day 126
Day 127
Day 128
Day 129
I already have allergies. Cow's milk is one of them. So much so that if it touches my skin, I break out. Because my skin is SO sensitive right now, I react so much! If I have a little yogurt on my hand and then touch or scratch my face, all h*** breaks loose... as seen below.
Day 130
I scratched my face with something on my hand and got welts around my eye and my face flared up.
This is an hour later.
I just recently saw
this news report where Dr. Rapaport talks about our condition!
It's so nice that he's getting the word out...you should check it out. I've been calling it Topical Steroid Withdrawal more than Red Skin Syndrome, but he seems to call it Red Skin more... so maybe I'll change up my vocabulary.
Other than my normal pics, I made a video this week. I looked a hot mess, I'm wearing a robe that won't stay closed, and my kitchen cupboard is wide open... haha, but I wanted to share a little trick I use to keep ice packs secured around my neck. I've lost all sense of discretion and pride in my looks haha... so posting this is crazy to me. NOTHING I would've ever done before.
Day 131
Day 132
This wrist is so up and down.
I woke up scratching... TORE up my neck!?
Day 133
Those brows... blech
I really hope they come back
SOMETHING set me off... sigh
Day 134
Please don't comment that you don't think food effects the healing process because, for me, IT DOES.
1. It eases the itching and inflammation OR CAUSES the itching and inflammation.
2. It promotes healing OR slows it.
I am on a STRICT diet. For 4 whole months I ate ONLY quinoa, chicken, and leafy greens. I did NOT deviate and ONLY drank distilled water. VERY slowly, I started testing foods. When I tested foods, my skin was FAR from healed or perfect, but the itching and inflammation were controlled. The ONLY time I've had itch attacks (Other than the oozy itch) have been directly related to food and, in one case, water.
Here are the food flares I've had over the last week or so. I'll break down EXACTLY how I deviated from my diet and why I'm SO convinced that the food was the cause.
Day 135- Calm Skin
Day 136
No pics... Was feeling good this day. Decided to test the waters and ate a peanut butter and honey on pale bread around dinner time.
Day 137
Itched most of the night and woke up like this!
Day 138
Typically, the swelling and inflammation subsides and goes back to normal, but I had ALSO introduced some new spices into my cooking. LOTS of cumin and pepper. These are in the nightshade family and were causing me tons of inflammation and itching I discovered, so I cut them out after this.
Lots of ice packs....
BEYOND itchy. BEYOND.
Day 139
I cut out the Mexican spices (nightshades) and the inflammation and redness subsided a great deal. Was back on the road to recovery.
I call this good flakey. There's no pain or thick skin and the flakes are soft to the touch. It's basically the beginning of the healing from the thick skin.
Things were fine UNTIL I ate sweet potato and within twenty minutes looked like this! I became highly agitated, and could hardly breathe. I was freaking out. I called my husband and was SO agitated and upset that he came home. It lasted about an hour. I literally felt CRAZY in my head.
This was 2 hours later....
Day 140
Back to my diet and back to healing...
Very dry... but NOT inflamed.
I tore my neck apart when I was flaring.
SHOWERING
I can now shower without it hurting! In fact, they feel good! The ONLY problem? My skin seems to need a few days to recover from one. After shower it will be horribly red and inflamed. Then I'll put on moisturizer and my skin will react to that (SEE MOISTURIZER WITHDRAWAL BELOW). My biggest problem is knowing what to do... should I shower? Should I not?? So I just wait until I'm itchy enough to need one and then go from there. I haven't quite worked the back into my daily routine.
ALLERGIC REACTIONS:
So, month 5 has brought about a LOOOOT of food flares. Now, I'm not sure if it's just where I'm at in healing as a lot of people have said they too have had the massive hive reaction to foods at this stage and then never again, but there's no way to tell. All I know is month 5 has been me testing the water with food and eventually just going back to distilled water and my quinoa, kale, chicken, avocado diet. (I am aware of the long term effects of drinking distilled... but right now, it's what I need.) So far, the last 4 days, I have had great reduction in inflammation and have had NO flares or reactions since going back to the strict diet.
FASTER HEALING
I flared up REALLY badly the other night and broke out in SERIOUS hives ALL over my body. I also had swollen hands and ears. I was pretty devastated and figured it would be a huge setback, but it actually wasn't so bad. I woke up after benedryl and the hives and swelling were gone. I've discovered that my recovery from flares has been much quicker! Before I would be out for a minimum of a week plus... now, it's a day or two before I feel better. Hopefully this is a new trend!!
MOISTURIZER WITHDRAWAL
I've discovered a few things about moisturizer.
It feels good... AT FIRST. Then itches like CRAZY.
It leaves the flakey skin fragile and irritating. It makes me want to scratch rub scratch rub until all of the flakes are gone. I feel like it peels the skin too soon and then leaves my skin exposed to irritants.
It usually gives me bumps of irritation for several hours.
My skin feels raw for a few days until the moisturizer wears off and then It feels good. The more flakes I have, the better my skin feels. SO weird.
So, for now, I'm ditching the moisturizer.
This has been HUGE!! Before, when exposed to heat or when my body temp would rise (anything that would cause me to sweat), i would have a
heat flare
. These were MADDENING. The itch was at a full blown 10 and made me want to crawl out of my skin!! Lately, the last several days, the heat flare intensity has been a 2-3 tops!! I sat in the sun for 15 minutes (that's a lot in 100 degree texas heat!) and didn't itch at all! I came in and was a TINY bit itchy, but nothing I couldn't ignore. This is AMAZING. It's allowed me to sit in the sun a lot this week which has been wonderful. I'm REALLY REALLY REALLY hoping the sweaty heat flares are out of the way.....
Day 141


Day 142
Day 143
Day 144
VERY shortly after this I had a MAJOR allergic reaction. Hives all over my entire body and swollen hands and ears. I was too upset and freaked out to take pics.
Day 145
I was really dry, but SUPER happy that it didn't set me back too far. All the hives were gone and there wasn't a lot of damage from the scratching.
Except I scratched my side right here and it BLED a LOT.
Day 146
Felt REALLY good fro having a flare 2 days before! From a distance I looked somewhat normal. No eyebrows and now coloring, but NOT a monster.
Day 147
I sat outside for 15 minutes in the blistering heat. This is what I looked like when i came back in.
Day 149
Had good energy and felt really good today.
My neck is so dry it looks like leather when I turn my neck...
Skin is VERY dry, but doesn't feel too dry. It actually feels really good, so I'm not going to put anything on it. I'll just look like leather.
I finally put on makeup for the first time. And I flared. Although, I'm not sure if it was the makeup, the makeup remover, or the Sonic tater tots I ate out of starvation that made me flare... So, I'll have to test the makeup later.... For the first time... I felt like I looked somewhat normal.
Day 150
From a distance I don't look too bad.... Up close I look flaky.. a flaky mess.
Started flaring little on my upper lip.... So, I put some makeup on it...
Day 151
Touch of makeup goes a long way!
Day 152
I felt so NORMAL.
Back really clearing up
I used mineral oil to remove my makeup. At this point, my skin was already starting to flare. I'm thinking from the tots. You can see my chest is already a rashy mess and the face will follow....
Add caption
Day 153
Face fairly calm...
Flared
In the middle of a flare my skin wither looks THICK and red or thick and flakey